On 15-17 January, members of the AMYPAD team attended the 14th Human Amyloid Imaging (HAI) conference in Miami, Florida. The event was organised by Keith A. Johnson (Massachusetts General Hospital/Harvard Medical School), Bill Klunk (University of Pittsburgh), Chet Mathis (University of Pittsburgh), Bill Jagust (University of California, Berkeley) and Maria Carrillo (Alzheimer's Association).
The program covered presentations on human imaging of amyloid-beta and other biomarkers that pertain to Alzheimer's-related disease and included three great keynote presentations from:
Alan Evans (McGill University), "Pathology progression modelling in Alzheimer's disease"
Julie Schneider (Rush University), "Amyloid and tau: one of multiple pathways to tissue injury, degeneration, and Alzheimer's dementia"
Li-Huei Tsai (MIT), "Leveraging brain rhythms as a therapeutic intervention for Alzheimer's disease".
The event gathered together more than 400 attendees and displayed 166 poster presentations. We were pleased that seven AMYPAD members presented different aspects of the project:
"Early detection of amyloid load using 18F-Florbetaben (FBB) PET", poster presentation by Santiago Bullich (LMI)
"[11C]PiB Amyloid quantification and Choice of Reference Region", poster presentation by Fiona Heeman (VUmc)
"Amyloid PET variability due to variation in MRI protocol and anatomical segmentation", poster presentation by Richard Manber (IXICO)
"White matter integrity disruption in early amyloid accumulators", poster presentation by Lyduine Collij (VUmc)
"Preliminary Quantitative Results of the AMYPAD Prognostic and Natural History Study", poster presentation by Gemma Salvadó (BBRC)
"Cross-sectional and longitudinal non-dichotomized CSF/PET Aβ data support existence of "CSF+ first" vs. "PET+ first" pathways of Aβ biomarkers changes", poster presentation by Arianna Sala (KI)
"Reducing sample sizes to detect amyloid accumulation", oral presentation by Isadora Lopes Alves (VUmc)
These presentations generated a great deal of interest from attendees. If you have missed the event, do not hesitate to download the AMYPAD posters on our website here.
To access the conference website, please visit the conference's website here.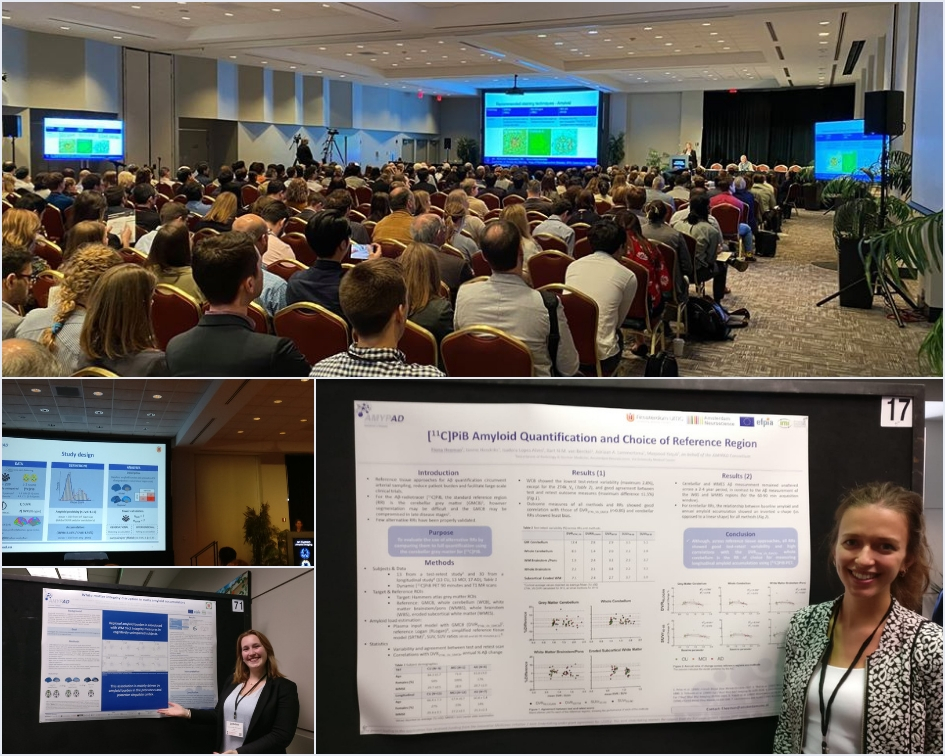 Follow us on Twitter: @IMI_AMYPAD
Receive the latest news. Click here to subscribe!