The Clinical Trials on Alzheimer's Disease conference (CTAD) is a meeting focused entirely on Alzheimer's Disease Therapeutic Trials with key leaders in Alzheimer's disease research getting together and forming partnerships with the objective of speeding the development of effective treatments to fight the disease.
This year the 14th annual CTAD conference "Therapeutic Trials in AD: A New Hope for 2022?" held on November 9-12, 2021, combined an onsite meeting in Boston (US) with on-demand scientific content on a digital platform.
Several AMYPAD members had the opportunity to travel and spend few days in Boston to discuss science and interact with delegates. On 11 November, Juan Domingo Gispert (BarcelonaβetaBrain Research Center, BBRC, Spain) gave an oral presentation and presented the current status and quantitative results of the AMYPAD Prognostic and Natural History Study. We are also pleased that Lyduine Collij (VU university medical center, VUmc, The Netherlands) presented an AMYPAD poster entitled "Regional amyloid accumulation predicts memory decline in initially cognitively unimpaired individual". If you have missed the event, do not hesitate to download the AMYPAD poster on our website here.
To access the conference website, please visit http://www.ctad-alzheimer.com/
The entire scientific content will be available for 3 months! You can still register to #CTAD21 and access all the content via the platform: https://www.ctad-alzheimer.com/ctad21-online
Mark your calendar for CTAD 2022!
November 29th – December 2nd
San Francisco, US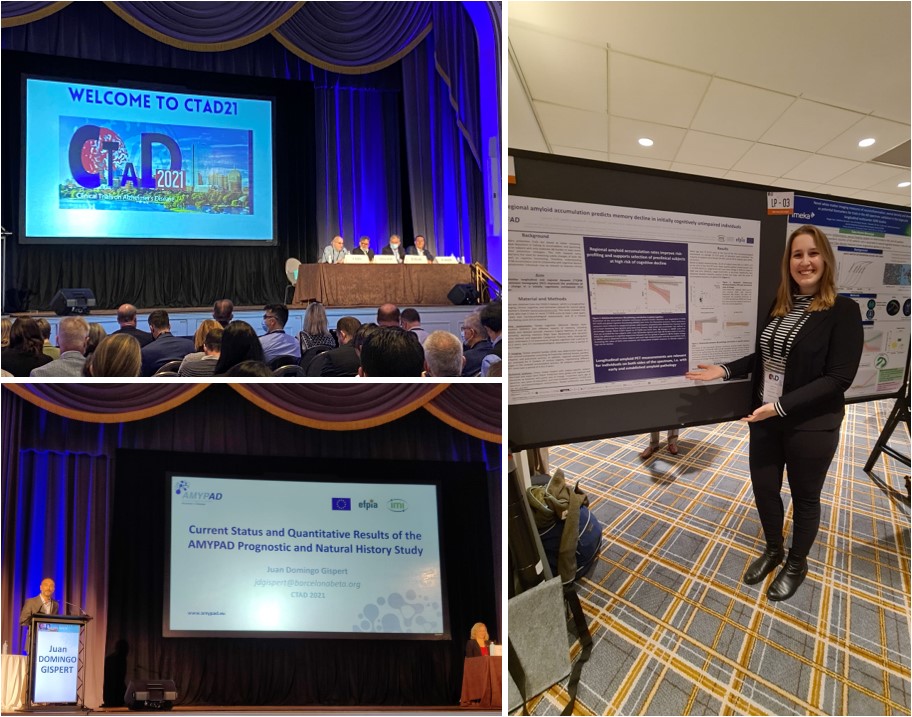 —
Follow us on Twitter: @IMI_AMYPAD
Receive the latest news. Click here to subscribe!