The 'Mapping Neuroreceptors at Work' (NRM 21) conference was held virtually from December 14 – 16, 2021. Since 1997, the NRM conference convenes experts in the field of neuroreceptors and serves as a platform to discuss the latest breakthroughs in quantifying neuroreceptors in the human brain using Positron Emission Tomography (PET). A wide range of methodological advances are traditionally discussed, including novel brain molecular imaging agents, pharmacokinetic analysis, radio metabolites and analytical methods are traditionally discussed in this meeting. Furthermore, the NRM conference includes sections devoted to neuroreceptor abnormalities in neuropsychiatric and neurological conditions with particular attention to quantification of protein aggregates in neurodegenerative conditions.
The NRM 2021 conference offered an exciting scientific and virtual social program for discussing the latest research involving PET neuroreceptors. During the event, Emma Coomans (VUmc) gave a talk entitled "Genetically identical twins show comparable tau PET load and spatial distribution". This presentation showed that overall, identical twin-pairs were comparable in tau load and spatial distribution, highlighting the important role of genetic factors in the accumulation and spreading of tau pathology.
Fiona Heeman (VUmc) also gave an oral presentation entitled "Impact of Cerebral Blood Flow and Amyloid load on SUVR bias". Her findings demonstrated that bias in standardized uptake value ratio (SUVR) relative to distribution volume ratio (DVR) is primarily due to underlying Aβ pathology. Furthermore, in a cohort consisting mainly of cognitively unimpaired individuals, the effect of cerebral blood flow on bias in SUVR appeared limited.
For more information about the conference, visit https://www.nrm2021.org/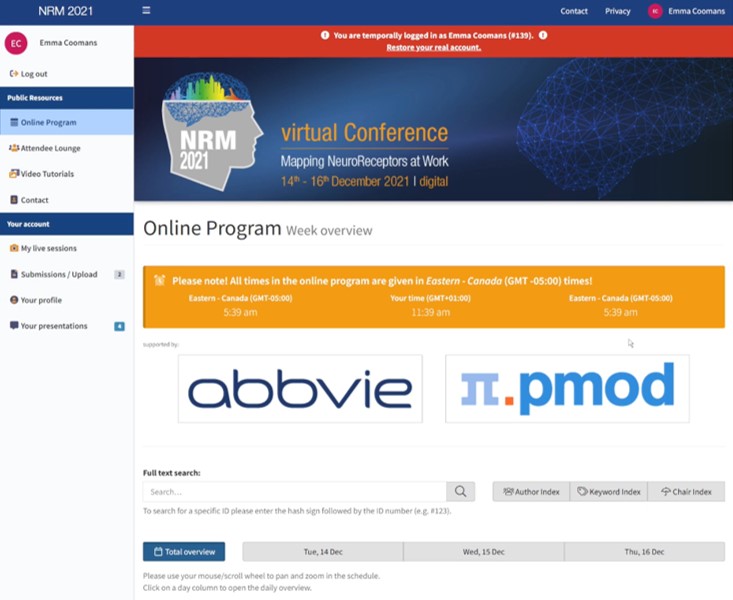 —
Follow us on Twitter: @IMI_AMYPAD
Receive the latest news. Click here to subscribe!